Born in Minnesota, with a BA from Marlboro College, an MFA from George Washington University, and apprenticeship to 12th-generation Japanese potter, Tarouemon Nakazato in Karatsu, Japan, and working directly under Takashi Nakazato, Malcolm Wright has brought to his work a diversity of sources.



EDUCATION


1962

BA, Marlboro College, Marlboro, VT


1967- MFA

George Washington University, Washington, DC


1968-1970

Apprenticed to Taroueman Nakazato Xll,




Living National Treasure, Karatsu, Japan





TEACHING EXPERIENCE


1970-1980

Marlboro College, Marlboro, VT


1963-1967

Corcoran School of Art, Washington, DC





WORK AVAILABILITY


Sara, 950 Lexington Ave. New York, NY 10021. Tel. 212.772.3243



SELECTED EXHIBITIONS


See also news and events
2018Cynthia Reeves, Walpole NH. February 3 - March 3.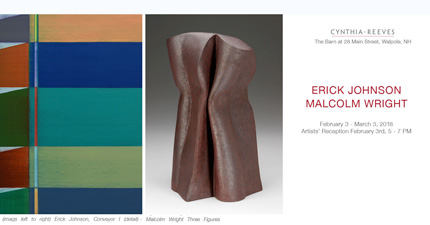 (click on image to view exhibition catalogue)

2015"From Potash," Arch Contemporary Ceramics,


Tiverton, RI


"Divergent Currents," Clay Art Center,


Port Chester, NY


"Father and Son," Mitchell-Giddings, Brattleboro, VT
2014"Transformations into Bronze," Sara, New York, NY
2011

Cynthia - Reeves New England, Hanover NH,


2008

eo art lab, Chester, CT


2007

Spheris Gallery, Hanover NH




Fuller Craft Museum, Brockton MA


2006

"Coast to Coast," Anton Gallery, Monterey, CA




"Decade: Potters of Hikarigama 1995-2005"




Portland, OR




"NCECA Wood Fired Ceramics,"




Lawrence Gallery, Portland, OR




"Fire Up!," Studio Place Arts, Barre, VT




"Architectural Echoes in Clay," Hendersonville, NC




International Wood Fire Conference,




Northern Arizona University, Flagstaff, AZ


2005

"Connecting through Clay, Karatsu Pottery"




Felissimo Design House and Sara present




Karatsu Pottery, New York, NY




"Chalk and Clay," Reeves Contemporary,




New York, NY and Spheris Gallery, Bellows Falls, VT


2003-2005

Plum Gallery, Williamstown, MA


2004

"Creations in Clay: Contemporary New England




Ceramics" Currier Museum of Art, Manchester, NH




"The Language of Wood: Woodfired Clay"




W.D.O. A Contemporary Craft Gallery, Charlotte, NC




"The Naked Truth," International Wood Fire




Conference at the Cedar Rapids Museum of Art




Cedar Rapids, IA


2003

White Lotus Gallery, Eugene, OR


2002

"The New Way of Tea," Asia Society, New York, NY




"Twenty Two Ways of Clay," University of Texas




Tyler, TX


2000

Huntington Museum of Art, Huntington, WV


Blanden Memorial Art Museum, Ft. Dodge, IA
1997,00,03

Gallery Daichi Arts,Ltd., New York, NY


1992-1994

"Bridge of Fire: Two Potters East and West"




(1992) Museum of Fine Arts, Springfield, MA




(1992) Art Complex Museum, Duxbury, MA




(1992) Japanese Information and Cultural Center,




Washington, DC




(1993) Noyes Museum, Oceanville, NJ




(1994) Denver Art Museum, Denver, CO




(1994) Whitman College, Walla Walla, WA


1991,1997

Gallery Manyodo, Tokyo, Japan


1990-2005Genovese/Sullivan Gallery, Boston, MA
1978-1998

Azuma Gallery, New York, NY


1983,87,03

Brattleboro Museum & Art Center, Brattleboro, VT


1985,92,05

Art Complex Museum, Duxbury, MA


1970

Takashimaya Gallery, Osaka, Japan





PUBLIC COLLECTIONS


Art Complex Museum, Duxbury, MA
Bennington Museum, Bennington, VT
Blanden Memorial Art Museum, Ft. Dodge, IA
Corcoran Gallery of Art, Washington, DC
Currier Museum of Art, Manchester, NH
Denver Art Museum, Denver, CO
Huntington Museum of Art, Huntington, WV
Idemitsu Museum, Tokyo, Japan
Museum of Fine Arts, Boston, MA
Museum of Fine Arts, Springfield, MA
Urasenke Society of New York, New York, NY



LECTURES/SEMINARS/WORKSHOPS


2009

Arts Institute of Boston, Boston, MA


2008

Skidmore College, Saratoga Springs, NY


2007

U Mass Dartmouth, New Bedford, MA


2006

Woodfire Conference, Flagstaff, AZ


2003

Bard Graduate Center, New York, NY


2000

Huntington Museum of Art, Huntington, WV


1995

Worcester Craft Center, Worcester, MA


1988

NCECA, Portland, OR


1988,1991League of NH Craftsmen, Hanover, NH
1986

Asia Society, New York, NY


1983,199492nd Street Y, New York, NY
1983Woodfired Aesthetics, sponsored by Studio Potter


magazine, Japan Society, New York, NY





PUBLICATIONS


2018Cynthia Reeves Exhibition Catalogue
2015The Log Book, Issue 62, "Expectations and Risk"


by Malcolm Wright


2008Art New England, (Feb/Mar) review p. 39


by Craig Stockwell


2005ID Magazine, Nov. Issue, pp. 104-5, "Dining


in the Rough" by Ernest Beck


The Studio Potter, December, Vol. 34, No.1,


"Pottery and Sculpture," by Malcolm Wright


2004The Log Book, Issue 19, "About Blowholes"


by Malcolm Wright


2003Boston Phoenix, 3/10/03, review, "Smoking Pots"


by Christopher Millis


2000Ceramics: Art & Perception, Issue 42


by Margaret Skove




"Functional Ceramics & Sculpture: Malcolm Wright"


Blanden Memorial Art Museum by Margaret Skove
1998American Craft, (April/May) by Gerry Williams
1997

"Four Friends: Variety in Juxtaposition,"




Gallery Manyodo, Tokyo, Japan by Malcolm Wright


1992"Bridge of Fire: Two Potters East and West,"


Museum of Fine Arts, Springfield, MA




by Samuel Morse


"The Studio Potter Twentieth Anniversary


Collection"<, June, Vol. 20, No.2


The Studio Potter December, Vol. 21, No.1


"Collaborating with Takashi Nakazato"




by Malcolm Wright


1991

Two Man Exhibition: T. Nakazato, M. Wright,




Gallery Manyodo, Tokyo, Japan




by Samuel Morse


1990The Studio Potter, June, Vol. 18, No.2 "In Praise


of Feet", by Malcolm Wright et al


1989New York Times 10/1/99, by Ann Pringle Harris
The Studio Potter, December, Vol. 18, No.1


"Vermont Potters" by Gerry Williams


1988NCECA Journal (Fall) by Malcolm Wright
1987Japanese Crafts/New England. Brattleboro Museum &


Art Center by Ann & Sam Morse


1985American Craft (Oct/Nov) by Michael Boylen


"American Art for the Tea Ceremony"




by William Thrasher


1982The Studio Potter, December, Vol. 11, No.1


"Studio Potter Survey of Woodburning Kilns"

pp.10-11


Ceramic Pillows p.80 by Malcolm Wright



MEMBERSHIPS


Vermont Crafts Council



AWARDS


2003

Walter Cerf Award for Lifetime Achievement


in the Arts, Vermont Arts Council